The Pizza Mondo Family: Growing Up With Bend, Oregon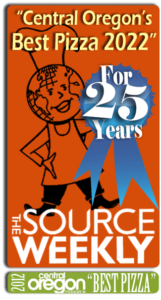 Pizza. People. Community. These are the main ingredients in the Pizza Mondo recipe. In 1996, when Steve Koch and John Picarazzi left their lawyer jobs behind to turn their lifelong passion for outrageously great pizza into a pizzeria business, Bend, Oregon was a town of 30,000 residents. Today, the community has nearly tripled in size, and Pizza Mondo has become a downtown landmark.
Customers have grown from kids to adults, employees have gone on to pursue careers, relationships and start families and businesses of their own. Longtime manager Cliff Triplett has become a part owner of the business. Throughout all of these changes, Pizza Mondo's obsession with making the best pizza humanly possible, treating employees and customers with care and respect, and returning the love to the community has only become even more deeply rooted.
By zealously adhering to this basic formula, Pizza Mondo has not only survived, it has thrived. We are a favorite of locals and out-of-towners, who often make return visits to Pizza Mondo a traditional part of their Bend vacations.
We have stayed true to our values, and we believe it shows in everything from the quality of our pizza to the legacy of our staff. We feel fortunate to have had so many great long-term employees, from our original crew (Mel, Bip, Brad, Boots, Gregg, Leslie and Heidi!) to our present powerhouse pizza gods and goddesses, our success is entirely due to the hard work of our great employees. Almost all of them have remained good friends and will always be part of the Pizza Mondo family.
Exciting things continue to happen in the world of Pizza Mondo. Throughout the many changes in Bend – and the world – we welcome new challenges and strive to continue to be a vital option for reasonably priced, high quality food, serving up the best possible pizza for dine-in, take-out and delivery every day.
Whether your next visit to Pizza Mondo is your first or your five hundredth, enjoy!
We thank you for your support.
Buon appetito,
The Pizza Mondo Family